The Persian

Name

The Persian

Played By

Also known as

Ledoux

Appears in

The Character as portrayed by Arthur Edmund Carewe in The 1925 Movie
Character
Edit
"The Persian" was the alias of Ledoux, a member of the Secret Police. He worked undercover in the Paris Opera House to learn the identity of the mysterious "Phantom Of The Opera". Because he often lurked around the Opera looking for clues, many people came to believe that he was actually The Phantom. He eventually discovered that The Phantom was in fact Erik, an insane genius who had escaped from an island prison. When Erik abducted Christine Daae, Ledoux teamed up with Raoul to get her back.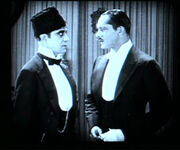 The 1929 Dubbed Version
Edit
When Universal dubbed the Movie in sound Arthur Edmund Carewe reprised his role by voicing The Persian.